Hi there, I'm Shane Glenn Vickers. Nice to meet you!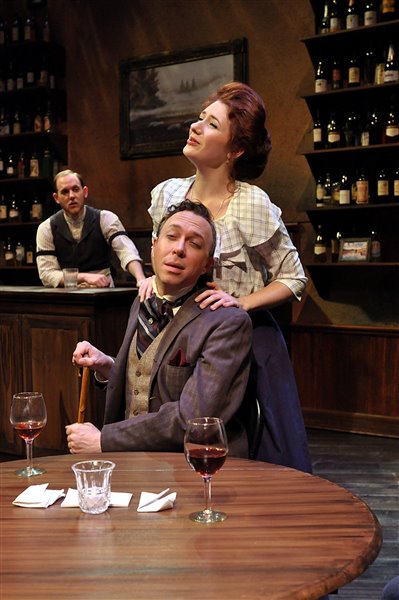 Shane Vickers is a witty dandy and a classic like an Old Fashioned—fruity with a good dose of aged whiskey.
I am a classically trained actor, singer, a physical comedian, and a past my sale date dancer who has happily shuffled down to the experienced mover category. Recent casting director "Do you consider yourself a dancer, Shane?" "Oh, I definitely used to be considered a dancer but now I happily go by experienced mover." "What happened?" "My forties…."
Whether touring the country as the Scarecrow in a national tour of Wizard of Oz, playing the past-his-date alcoholic Shakespearean actor Selsdon in Noises Off, the darkly mysterious Dr. Sweet in BUG, the eager assistant Bob Cratchitt in A Christmas Carol, or the romantically challenged lover of barflies Gaston in Picasso at the Lapin Agile, I strive to find the depth of the character's soul and let the comedy come from truth. A lover of period theatre, Shakespeare and musicals I decided that wanted to do it all and have had the opportunity to do both at regional theatres all over the country. When not on stage, I enjoy writing plays, making cocktails, and sharing stories with friends. If there were a love child of Oscar Wilde, Stanley Tucci, David Hyde Pierce, and Noel Coward, that would be me.
I am a proud member of Actor's Equity and have trained at two nationally recognized universities with degrees in musical theatre and classical acting with concentration in period, physical theatre and clowning. I received extensive period and musical theatre training from the Gainesville Theatre Alliance and am also a Summa Cum Laude graduate of the illustrious BFA acting program at Texas State University, which is basically the Hogwarts of Acting schools (we trained in a magical building surrounded by a moat)!! I have studied with esteemed names such as Lauren Lane, Michael Costello, Jim Price, Chuck Nye, Gay Hammond, Jim Hammond, Bob Krakower, Richard Garner, Kent Gash of the New Studio on Broadway, Karen Kohlhass of the Atlantic Theatre Acting school and many more. I have shared regional stages with Broadway actors Eugene Lee, David Alford and many other luminaries in my field, learning and being thankful for every opportunity! On any ordinary day you will probably find me drinking a cup of tea with my kitty in my lap, watching Doctor Who or anything on Britbox and dreaming of my European vacation that WILL happen someday! Perhaps on my UPCOMING HONEYMOON!
Three-fourths soul, a splash of class, sass, and a dash of zany. Shane is served well-muddled, shaken, or stirred!!!
Representation:
The Bankston Agency
210-683-5089

Height
5' 11"
Hair Color
Brown
Eye Color
Blue
For all bookings contact shane at Castings:
shane@shanevickers.com (Theatrical) & lilly@bankstontalent.com (film/commercial/tv)